4 Days 3 Nights Crater Rim Lake and Summit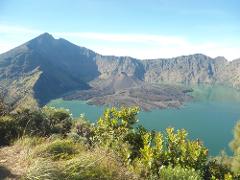 Duration: 4 Days (approx.)
Product code: PIUIWT
The 4 days trekking trip package to Mount Mt Rinjani Porters Descent from Senaru Creater Rim Rinjani, this package will give you more time to explore the Rinjani volcano such the summit, crater Rim, Lake, cave and more. This Trek program start in Sembalun end in Senaru. The trekking trip package are suitable for all grade such a moderate to advance level. This trek trip are same as the 3 days trek but you will have 1 full day extra time to explorer the Rinjani volcano as you will have a night camping and two days in crater lake of Segara Anak. The Rinjani Trekking to summit and crater lake trip package are fully organized combination of adventure, leisure, ecotourism, and safety. We organised the Rinjani trekking trip for individual and at small group maximum of 10 persons to maximize service and safety for all participants.
The Rinjani Trekking to Summit and Crater Lake Trip
highlights
: Watching the ever changing scenery as you ascend and descend Mount Rinjani , Sunrise on Mount Rinjani taking in the spectacular view of Segara Anak Lake and the island of Lombok stretching far below, Crater Lake, Hot Spring, Cave, Sembalun and Senaru crater rim.
Pre Trek Preparations
trek to Rinjani volcano requires you to have a good level of fitness and ability to walk long distance. People with mountain sickness or height phobia are not allowed to join this tour. We highly recommended you to have an travel insurance and exercise before the trip start, at least you do walk 5 kilometers for beginners, in a day at home, or joint with the fitness centere at your home.
What to Carry
During the trek you will just have to carry your small day pack with essential items such as sunglasses, sunscreen, water etc. Porters are employed to carry the rest of your gear on the trek. Please keep this to a minimum while on the trek.
About the Trek
You will encounter steep ascents and descents on a fairly good system of tracks whilst on the trek.. A good level of fitness is required. Please contact us if you would like some suggestions in relation to pre trip training or if you are concerned about your fitness level.
All meals will be prepared by your guide and porters on open fires and fuel stoves. Your porters will exhibit super human strength in getting all your camping gear up the mountain and is a constant source of amazement to trekkers! Expect traditional Indonesian style rice based meals. The meals are excellent relative to what you might expect on a typical western style commercial trek. The staff take great pride in their cooking skills and presentation of your meal. Any offers to help are welcome but not expected.
All your camping gear is supplied but if you want to take your own light weight sleeping bag or sleeping mat that's fine. This can be arranged at your pre trip briefing in Senggigi Beach. Most trekkers will carry a small pack or day pack with personal items such as clothes, toiletries and photography gear. Keep the gear to a minimum and don't take anything up the mountain that you don't have to!
Trip Duration: 4 Days
Grade: Moderate to Advance
Activities: Trekking, Adventure touring
Accommodation: 4 Days Trek, 3 night camping
Itinerary:
Day 1: Sembalun Lawang (1156m) to Pelawangan 11(2700m)
We will pick you up from your hotel at approximately 6AM and start the 2.5 hr drive to Sembalun Lawang. As the sun comes up you will catch glimpses of the lower slopes of the mountain. Enjoy breakfast on route before we meet your guide at the Gunung Rinjani Information Centre and begin the trek. The first day is challenging with 1600mt in height gained over 7-8 hrs trekking . The trek starts on relatively easy tracks thru open grassland and along the fringes of local farms. There are many dry creek bed crossings across timber bridges and there is a good chance of a meeting the cheeky grey macaque monkeys on the way . You will walk thru forests dominated by beautiful casuarinas known locally as Cemara as you pass thru rest areas at Position 2 (1500mt) and Pada Balong (1800mt) . From here the track gets noticeably steeper and some hard work awaits you on the long haul up to base camp at Plawangan II. From your campsite the summit looks deceptively close and the views of the crater rim and lake absolutely stunning. This is a good time to take stock of your fitness and how you are feeling generally before you decide if an attempt of the summit is for you.
Day 2: Pelawangan 11(2700m) Summit (3726m) to Danau Segara Anak (2000m)
3AM and the summit awaits! Your guide will wake you and help you prepare for the arduous 3-4 hour ascent of the mountain. Its takes approximately 1 hr to get from base camp to the exposed ridge line that leads to the summit. From there your work rate will significantly increase as the air thins out and the track steepens. The last 400 meteres of the ascent is particularly hard as you are climbing on loose volcanic scree. The reward for your efforts is the sensational view from atop Mt Rinjani. Looking out to the west you can see the Gili Islands, Bali, Mt. Agung and even Java in the distance. To the east , island of Sumbawa is clearly visible. Below you the crater lake and its new cones look post card perfect. Spend some time on the roof of Indonesia to take a few photos, reflect and get your breath back before heading back down the ridge line to base camp. Your mornings work should take you about 5-6 hrs all up. After breakfast we will head down to the crater lake (Danau Segara Anak). The track is steep as it winds its way down to the lake. It should take 3-4 hrs to get to the camp site on the shores of the lake. Take a well earned rest before heading for the hot springs ((Aiq Kalak) an easy 5 min walk away. Soak away the sweat of a hard days trekking in the series of hot pools that are a popular destination for local people. If you still have some energy explore the Milk Caves, an easy 90 min return walk from your campsite.

Day 3: Denau Segara Anak (2000m) to Pelawangan 1 (2641m)
Enjoy the 30 min walk along the edge of the lake before starting the trek upwards towards the crater rim and Pelawangan I. The track steepens as you ascend with the last hour being very taxing on the rocky track. Campsites on the rim itself are small and you will find yourself literally perched above the lake below. The sunset here is not too be missed. Darkness will reveal the lights of the Gilis and small towns on the mountains flanks . The campsite on the crater rim is one of the best experiences you will have while trekking Rinjani.
Day 4: Pelawangan 1(2641m) to Senaru(601m)
It is well worth getting up early to enjoy the sunrise over the Mt. Rinjani and the crater rim before breakfast and the last day of our journey. It takes about 5-6 hrs trekking to reach Senaru, Enjoy walking under the beautiful jungle canopy, home to the rare black ebony leaf monkey, known locally as Lutung . Rest stops at Pos 111 (2000m) and Pos11 (1500mt) is welcome relief for tired feet before the hard work winds down and you enter farmland on the outskirts of town in the early afternoon, arrived at Senaru, our driver will take you to your hotel in senggigi, arrive in senggigi check in at your hotel, free at your own leisure.
What to Carry
During the trek you will just have to carry your small day pack with essential items such as sunglasses, sunscreen, water etc. Porters are employed to carry the rest of your gear on the trek. Please keep this to a minimum while on the trek.
Price Includes:
• Return pick up with AC coach
• Rinjani National Park Entrance fee USD 15
• License English speaking Mountain Guide
• Local Porters
• 3 meals a day ( breakfast, lunch, Dinner, + snack, fruits, and unlimited water)
• All camping equipment ( double size tent, sleeping bag, air bed mattress, etc)
• Unlimited Drinking water from safe bottled
• Souvenir
Price does not included:
• Personal expenses
• Domestic / international flight
• Airport tax
• Accommodation after trek
• Meals before and after the trek departure
• Helicopter in case of accident
• Tips and gratuities